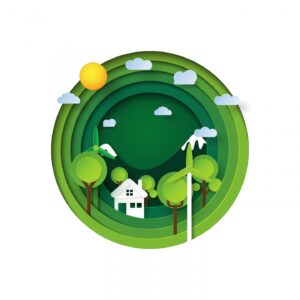 There are many types of heat pumps in existence, many of which don't really make sense for residents of our area. For instance, hydronic heat pumps use the heat energy of natural bodies of water to keep a space warm. But depending on where you live, you might not have immediate access to a lake or a river, which makes this type of heat pump very impractical.
However, there are two main types of heat pumps that are very practical for homeowners in our area. These are ground-source heat pumps (also known as geothermal heat pumps), and air-source heat pumps, which are usually referred to as conventional heat pumps.
Each of these systems draws its heat energy from a different place, and they both have their ups and downs, which we'll get into down below. Just make sure you choose our team for your next heat pump installation in Sapulpa, OK!
Air-Source Heat Pumps
Let's start with the most common type of heat pump, the air-source heat pump. These systems are designed very similarly to central air conditioners, with an outdoor component and an indoor system. This uses evaporation and condensation to move heat from one location to another.
In the summer, the heat pump moves heat from the indoor air to the outdoor air. In the winter, this process is reversed so your home stays warm. This is all done with the ambient heat energy of the air, which is why these systems are called air-source heat pumps.
These systems are going to cost less money to install than a geothermal, or ground-source heat pump, but they don't work as efficiently. Don't worry, these systems are still a ton more efficient than conventional heating and cooling methods like furnaces or central AC.
Ground-Source Heat Pumps
Ground-source heat pumps, as their name implies, draw their heat energy from beneath the earth's crust. Right under your home, just a few feet, lies a bank of comfortable temperatures ranging from 40-50 degrees Fahrenheit. This heat energy is then siphoned through a heat pump into your home where it keeps things warm in the winter and cool in the summer.
Ground-source heat pumps are some of the most efficient HVAC systems on the market, with huge returns on energy bills. They also last exceptionally long, with the underground pipe network lasting upwards of 50 years due to it being insulated from the weather. The only real downside to geothermal HVAC is that it's more expensive to install and laborious than other conventional system installations.
Other HVAC Systems
Don't worry, not everyone can afford a heat pump, whether it's ground-source or air-source. That's why we also install furnaces, central air conditioners, and even ductless mini split systems that can be used for customers with unique homes, budgets, and comfort preferences.
While we'd recommend investing in a heat pump for tax credits, rebates, and overall energy efficiency, gas and electric furnaces are becoming more powerful and efficient with each year. As long as you work with our team, you'll get a system that keeps heating or cooling bills low, and your family happy.
You can trust JC Mechanical for your next HVAC installation. Schedule an appointment with The Wizard of Blizzard today!