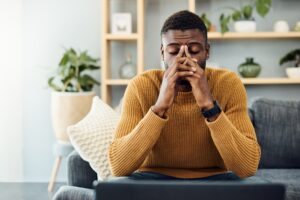 Refrigerant is one of the first things we teach our customers about. It's such an important component to the cooling process, that we'd practically be unable to have air conditioning without it. This is why having an issue like a refrigerant leak can be a huge bummer for a customer that's looking to keep their budget intact.
Don't worry, refrigerant leaks are actually quite common. They're still issues that require professional AC repair in Sapulpa, OK, but they're also easily handled by a trained technician. We want to spend this blog post making sure that our customers have all the important information on refrigerant leaks available to them. Any questions you might have, we'll do our best to answer.
But remember, if you don't see one of your questions here, be sure to call our expert technicians so you can get the answers you're looking for.
"What Is Refrigerant?"
First, let's start with the basics. Refrigerant is a material that simply evaporates and condenses with relative ease. This allows the system to pull in excess heat in the environment, and deposit it elsewhere, essentially cooling the air in your home. There–that's basically the cooling process in a nutshell!
In order for any of this to happen regularly, however, a base amount of refrigerant is required. This usually isn't a problem because refrigerant is in a closed-loop system, meaning none of it is used up during the cooling process, and your system is installed with the same amount of refrigerant it should have when it retires years later.
So, if you're running low on refrigerant, it must be due to a leak.
"How Does Refrigerant Leak Out?"
Customers can sometimes be surprised by the different ways a refrigerant leak forms. Sometimes it's as simple as your home's foundation moving an inch and causing the pipes to rupture. Or, perhaps a critter nibbled into the pipeline, causing it to spring a leak.
Sometimes even weather events can cause a pretty serious refrigerant leak. There are a number of different ways refrigerant leaks can occur, but they usually range from "bad" to "extremely bad," so you'll want to detect them as early as possible.
"What Are the Problems With a Refrigerant Leak"
In order to detect a refrigerant leak, you'll need to know some of the most common symptoms. Here are the regular problems that come as a result of a leak.
Poor efficiency. Your air conditioner will need to consume more energy to compensate for lower refrigerant levels, essentially leading to higher bills.
A broken system. The system could simply break down if it doesn't have the necessary amount of refrigerant for cooling.
Poor home comfort. Without refrigerant, your air conditioner is basically just an oversized fan. You might encounter poor comfort control without proper refrigerant amounts.
"What Can I Do About a Refrigerant Leak?"
Unfortunately, there's not much a homeowner can do about a refrigerant leak. We recommend all of our potential customers call our team and schedule an appointment so we can survey the damage and fix the issue promptly.
It's time to contact JC Mechanical, The Wizard of Blizzard, for all your AC repair needs.