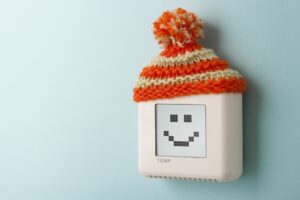 The chilly season is upon us, which means the Wizard of Blizzard is shifting gears to become the Wizard of Cozy Comfort until springtime arrives. We'll be covering some great heating tips this winter, starting with some heating system recommendations for homeowners that might be on the market.
We know, things haven't fully recovered after the pandemic and with record-high inflation, we're dealing with some pretty serious price hikes. But with a smart team of professionals and good financial planning, you could invest in a state-of-the-art heating installation in Bristow, OK that keeps you comfortable and your home efficient.
Let's take a look at our top 3 heating systems and why we recommend them to our average customer. We promise that after this blog post, if you're ready to buy, you'll be in better shape to make a smart decision.
Start With a Furnace
For many of our customers, they want a system that's reliable, affordable, and efficient. These three factors can come in various shapes and forms, but only one system is the most popular and common heating unit in America–the furnace.
Furnaces use gas or electricity to create heat in your home with exceptional efficiency. Gas furnaces burn today with AFUE ratings reaching 90+, which means you spend less money on your fuel bill every month for the same amount of comfort.
Why fix something that isn't broken? If you're looking to heat your home with the simplest option, go with your gut and choose a furnace.
Gas or Electric?
How do you know if you should choose a gas or electric furnace? It's simple, and boils down to a few factors.
Electric furnaces are more affordable but they can cost more money to run since they require electricity to operate (which can be more expensive than natural gas).
Gas furnaces are a great option, but require a natural gas line. This is not doable for many homes that only have access to things like electricity.
What About a Heat Pump?
What if your air conditioner is on its way out too? Should you replace both your heating and cooling systems with two different units? Instead, save money and electricity by investing in a heat pump.
Heat pumps use the same technology as your average central AC or refrigerator, except with the added ability to heat your home as well as cool it. This dual-purpose system is exceptionally efficient, runs on electricity, and can keep your home comfortable through every season. Sure, they're more expensive than conventional heating methods, but they get the job done well!
Ductless Is a Great Option
Heat pumps come in many different shapes and sizes, and ductless is one of them. If you're tired of using air ducts and you'd like to instead switch to a heat pump that comes in a more manageable, convenient, and customizable form–a ductless system is right for you.
These are heat pumps that work with air handlers mounted on your walls, ceilings, or floors, and can cool or heat a space to a specific temperature threshold. They might be pricier than other models we've talk about, but they're well worth the cost.
For more information on these heating systems, contact JC Mechanical, The Wizard of Blizzard!