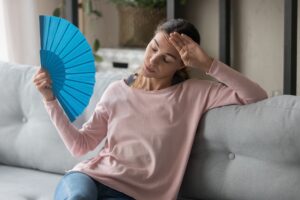 Heatwaves used to be a "once in a while" kind of occurrence. Now, they're practically every weekend and causing us to make last-minute changes in our plans. It's frustrating, but it's a reality of our time in the 21st century. So, what do we do about it?
First things first, we need to be safe and energy efficient. By staying comfortable, hydrated, and secure in your home, a heatwave won't be so hard on you or your family. Then, the next main priority is ensuring that you minimize the amount of electrical energy you require to power your fans and AC so that the power grid doesn't get overloaded. This will also ensure that you don't pay exorbitant electrical prices at the end of the month.
Don't worry, we'll go over all of these proposals and more. Just make sure you get your AC repair in Sapulpa, OK from us–the Wizard of Blizzard!
Set a Moderate Temperature Threshold
As the Wizard of Blizzard, we'd like to nerd out for a brief second. Just because a thermostat can be set to the mid to upper 60s, doesn't mean the AC will necessarily reach that temperature zone.
Your indoor temperature can only realistically be 20 degrees lower than the outdoor temperature. If a thermostat is set any lower than this, then your AC will work a lot harder for very minimal results. On a very hot day, try setting your AC to the upper 70s so that it still runs efficiently but keeps your home feeling dry and comfortable.
Insulate Your Living Space
Remember, if you're using an air conditioner, make sure to close your windows and doors to contain the cool air inside of your home. Many people think that they need to circulate air conditioning using open windows and doors, but that's just not the case. Treat your home like you would on a cold winter's day, except with the cool air being what you're trying to keep indoors instead of the heat!
Wear Cool Clothes and Limit Exposure to Sun
Sweatshirts might be more your style, but they're very bad for air circulation and sweating. Human beings naturally vent heat via sweat, which means loose and thin clothing will be a great choice on a hot summer's day.
Don't forget to limit your exposure to sunlight as well. The sun can increase the temperature by a solid few degrees and even cause skin burns if you're not careful.
Hydration Is Smart
Hydration might seem like a conventional tip that you'd get from anyone in the summer, but it can be more fun than that!
Everyone else might tell you to drink lots of water, and you probably already know that, but what if that could be taken a step further for some fun or beneficial perks of being hydrated?
For instance, adding cucumbers or citrus fruits to a large water container in your fridge will soon provide you with a tangy water alternative that's just as hydrating as the real deal! And that kind of drink will also contain some electrolytes which are good if you've been exercising in the heat.
From iced tea to fresh fruit juices, there are lots of creative ways to stay healthy. Have fun with it and make sure you're keeping hydrated.
Contact JC Mechanical, The Wizard of Blizzard, for help with your AC.